Why Czechoslovakian Vlcak?
In 2008, I started to look for a new dog.  Since childhood, I've loved not only dogs but animals in general.  My favorite thing to watch were not cartoons but National Geography and Nature documentaries.. I remember many evenings spent at the library as a child looking up information on what to feed my small menagerie of stick insects, spiders, caterpillars, mantids, & centipedes which was the extent of pets I was allowed to have since my parents did not want any furry pets.  In my early teenage years, we were finally able to get a dog - my first dog, a backyard-bred Doberman Pinscher.  He came to live with me and my two pet-quality companion breed girls full-time after I graduated from college.  At that time we were also involved with fostering dogs from the local shelters or private rescues and helping in transporting dogs for them. 
Since I could now afford the expenses of another large dog, I wanted to find my first 'serious' one - one I would be involved in with sports, shows, et al.  My primary concern was health and longevity of a breed, and secondly a breed which was known for being independent-minded. But I was not interested in the Vlcak I saw in my research or the dogs that showed up on my image searches. To me, many of the images I found looked like strange grey-colored shepherd dogs - in hindsight, probably I'd only seen average individuals.  It had to be exactly the right breed for me so I was not in any real big hurry. 
I read and continued to research several different breeds, and eventually, considered seriously whether CsV was the breed for us. The following year in 2009 I contacted the only kennel in the United States at the time and arranged a trip to meet some Czechoslovakian Vlcaks for the first time. That was only the first trip of many to various kennels throughout the years. As my interest grew, I read as much as I could, researched pedigrees, and spoke to many kennels and owners.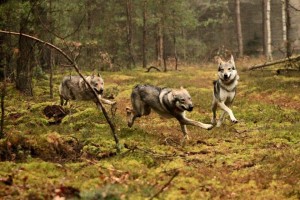 In 2010 I decided on a planned litter with the input of a few other breeders and breed judges, and in early 2011, I found myself in Lower Silesia, Poland, picking up my first one... He was everything that the many people in the breed told me Czechoslovakian Vlcak were: in short, he was the worst puppy... he was challenging, hardheaded, destructive, physical. Throughout his teenage years it was often a battle of wills and stubbornness on both our parts.. yet I knew that I made the absolute correct choice for me…
Over the years the dogs and I've regularly visited various countries in Europe and many different kennels and owners, attending various breed clubs' functions and a few FCI shows. From these experiences we learn about the breed and the various lines and met many exceptional dogs and hope to continue to do so.  We are also active in United Kennel Club show rings, mainly in Southern California where we are based.  We continually develop extensive networks within the breed domestically and internationally, and in recent years have started to import a few carefully selected dogs held in co-ownership.  These dogs are entrusted to and live with our friends and family, first as much-loved pets, and secondly where we can watch them grow up and develop to evaluate for possible inclusion in our breeding program.  I hope that these co-owns expand the genetic possibility and quality of the breed, and consider myself lucky to have such supportive friends.  When I reference "us" or "we" in these pages, I mean me and my co-owners and dogs as we are effectively a cooperative effort.
We dabble in various training and sports, depending on the whims of the dogs and their interests.  Our dogs either here or co-owned are all exclusively owner-trained and handled, live in the house, and are treated like family members.  We do not select our dogs based on "what is close by to me" or "who will most easily sell me one and send the dog to me" or "whatever is available when I'm looking" and especially not because "the breeder speaks English"...   Every dog here and every co-own was hand-picked and reserved based upon studying the quality and uniqueness of the pedigree and what we know of the individual fore-bearers, their temperaments, their health results, their grown relatives, and the strengths and weaknesses of their lines.
My main hobby is the dogs and we do everything together, for enjoyment and for breed-related events. We have been all over the United States, from California to Boston, to Japan, Mexico, Germany, Poland, Czech Republic, Slovakia, Austria... the list grows. The dogs have always been my companions and my co-pilots, so it was only a natural progression that when we registered our FCI kennel prefix in 2016, it was 'Greyfarer'...