Bonitation - Breed Survey for Czechoslovakian Vlcak and Other Breeding Requirements
This section describes the quality control measures in place for the evaluation of breeding stock specifically for Czechoslovakian Vlcak in their countries of origin - the Czech Republic and Slovakia.
One of the controls is an one-time exam called a "bonitation" and it assesses the temperament and detailed technical physical measurements and values of a dog or bitch.  In the Czech Republic and Slovakia, a dog or bitch must be bonitated by a 3-person panel of breed judges and receive a passing grade in order to earn breeding rights.  The facets of each national club's bonitation are slightly different, but generally measure various proportions of the dog, note any faults or abnormalities, and make a temperament assessment involving an aggressive stranger.  In CR and SK, the dog is then issued an overall P-value, which ostensibly denotes the breeding value of the dog.  P1 would be a standard specimen with no major faults.  P3, P5 are specimens with increasing severity or number of faults, and P14 is a disqualification from breeding.  The Lithuanian breed club also offers a Bonitation test, however, only the measurements are noted in detail and no overall P-value is assigned.  Update: In early 2017, Bonitation in the Czech Republic do not assign a P-value anymore.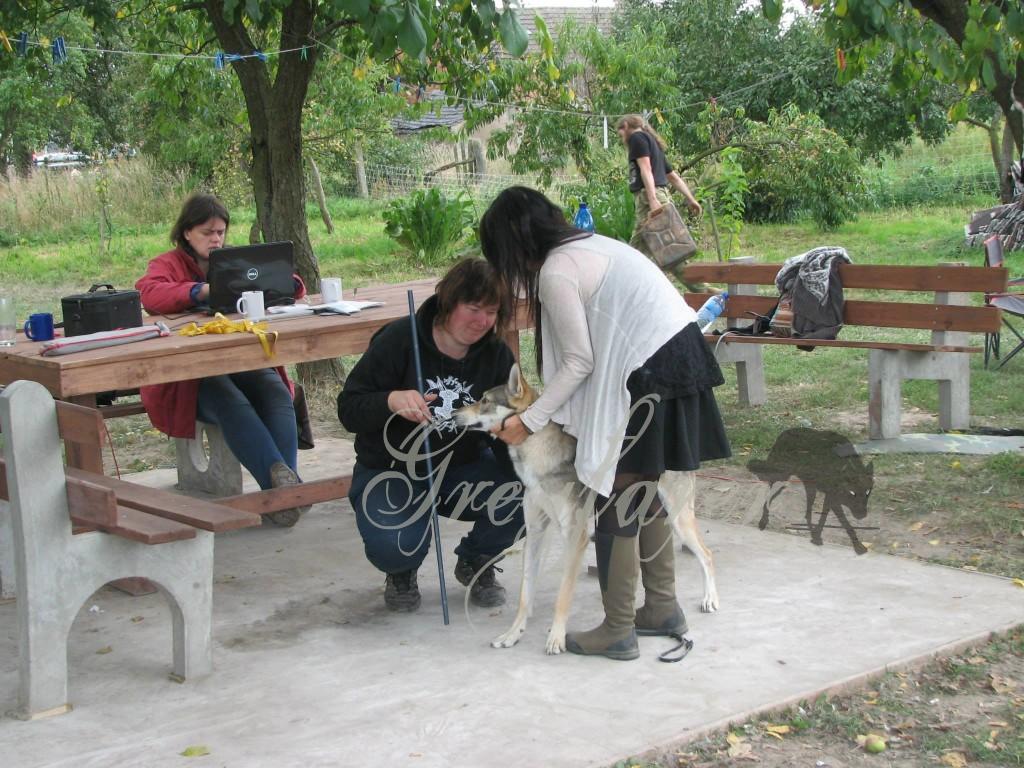 Under Slovak Club regulations, a female must be at least 18 months and males 24 months before they are eligible for a bonitation.  Younger dogs and bitches from 3 months and up may participate in an optional Youth Presentation which is similar to the bonitation, but is not a substitute for the breeding requirement.  The benefits of the bonitation are that unlike a conformation dog show, the dogs are technically evaluated using very precise measurements.  Theoretically, it is non-competitive and objective.  However, like any other evaluation tool, there are often allegations that the examining judges intentionally inflate certain measurements, assign P-values however they want, and show favoritism towards specific kennels and dogs, who seem to receive favorable values despite having disastrous proportions.  On the other hand, there are a few long-time judges with sterling reputations for reporting accurate measurements and it goes without saying - not all bonitations are the same, and ratings from certain judges are much more valuable than others.
Despite these misgivings, the numerical measurements given, if precisely reported, are an important tool in evaluating potential mates.  Additionally, the bonitation (along with other requirements) guarantees that other fanciers, breeders and judges of Czechoslovakian Vlcak will have an opportunity to see all individuals that want to earn breeding rights.  The possibility for a dog that nobody involved in the breed has ever seen earning breeding rights does not exist. 
At the current time, there have not been any Youth Presentation and Bonitation events hosted in the USA.  A suitable state-side substitute for the temperament section is the American Temperament Test (ATT) which has parallel elements for evaluating the temperament of a dog as in a bonitation.  However, the ATT is all-breed and works only on a pass-fail system, and the judges are not breed-specific judges.  Still, it is a decent available test, and can be video-taped for further review by those familiar with the breed.
Furthermore, in Slovakia (and not the Czech Republic) the dog must successfully complete the skúška vytrvalosti psa (SVP) first degree exam consisting of a 40 kilometer endurance run.  There are three degrees of length and time for this exam, although only the first level is a requirement.  The dog accompanies a handler on a bicycle for 40, 70, or 100 kilometers, the respective distances for the SVP1, SVP2, and SVP3.  This is to demonstrate and confirm the hardiness and correct efficient build and movement of the dog.  Most normal Czechoslovakian Vlcak can easily complete the SVP1 without any problem and without much training.  Like the bonitation, there has so far not been an SVP event hosted in the states, and they are generally held in early Spring or Fall, seasons I am rarely in Europe.  Therefore, we substitute a "mini-SVP" in the form of the endurance exam for German Shepherd Dogs - the Ausdauerprüfung (AD) exam - which is only 20km in length and offered by various Schutzhund clubs in the USA. 
Additional requirements of the Slovak National Breed Club, which we regard as the standard-bearer for the breed, also include mandatory screening of hips with A or B rating (Excellent, Good or Fair under OFA system equivalent), DNA-profiling, and participation in at least two club-accepted conformation shows.  Generally the shows accepted are one club show and one FCI-International dog show.  What ratings received at these conformation shows does not matter as long as the dog is not disqualified. 
Finally, the Slovak club only recognizes and accepts for breeding pedigree dogs who have complete official pedigrees reaching back to June 1, 1999, the date of the international recognition of the breed by FCI.  This disqualifies all of the so-called Mutara mixes officially registered in Italy and elsewhere. 
We believe that Slovakia keeps the highest mandatory standards for the breed.  Other countries may not require as much, but some breeders choose to meet these standards optionally as a measure of quality of their own breeding stock and program.